Ludogorets Sport Center
---
The "Ludogorets" training base was opened on June 21, 2012. The campus band was cut off personally by the Prime Minister Boyko Borissov. The "Nest of Eagles" is not only the most modern complex in Bulgaria, but is among the most advanced ones in Europe, as confirmed by the German company Polytan that puts artificial pitches in the Bundesliga. This was announced at the opening of the training Base and one of the owners of the team - Georgi Domuschiev. The facilities were built up in less than a year, he recalled. They includes terrain with natural cover and track-and-field athletics running track, artificial terrain, two small-size pitchs, which can be covered and heated in winter, fan shop, fitness, Spa centre, conference hall. All terrain covers are 'latest generation', designed with the aim to preserving the health of the sportsmen.
A trauma in childhood affects the career of sportsmen. When abroad Bulgarian footballers, due to large efforts, get injuries", Prime Minister Borisov comments. He appealed to all who want to be called "Football Presidents" to come to Razgrad and see what they have to do for the sport. "When you have a base, then the successes come, if not in the first year, but in the second or third year", said Borissov and pointed to one of the children formation of "Ludogorets" with the forecast that after 3 years the boys in green shirts will be masters and the team of Razgrad will again be champion.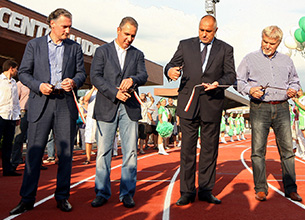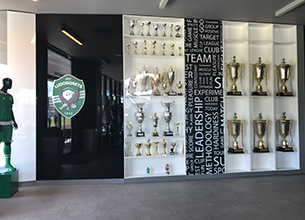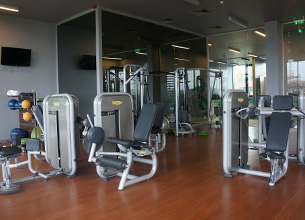 In its first stage the "Eagles Nest" base is located on 10 acres. A terrain with a natural cover -10568 is available, together with modern running track. At the disposal of children-youth Academy is also a terrain with artificial coverage of latest generation, a product of the leading German company Polytan, used also by most of the Bundesliga clubs. The talents of "Ludogorets" will be also able to use small-size artificial pitch, again of Polytan company, which have the option to be covered in the winter. Absolutely all terrains of the Base are provided with lighting. In the "Eagles Nest" a modern Spa centre, fitness room, changing-room, doctors' cabinets and a fan shop are functioning. Residents of Ludogorie region are also welcome. They can use for a fee the gym, the sauna and the small-size terrains. Guests have the option to taste aromatic coffee at cafe deluxe, which is located in the administrative part of the campus and at the same time to look closely at the eight cups, won during the season 2011/2012, 2012/2013, 2013/2014, 2014/2015, 2015/2016 and 2016/2017 as well as to purchase a fan item which will assist in the development of the "Ludogorets" football Academy.